Inductors are passive components that are used to store energy in the form of magnetic energy in power electronic circuits. The inductors oppose any change in the current flow that passes through them. When the current in the inductors changes, they either gain the charge or lose it to match with the current flow. The inductors are also known as chokes, coils, or reactors.
Inductors are characterized by their inductance, which is the ratio of the voltage and the rate of change of current. The S.I. unit of inductance is Henry (H), named after Joseph Henry, a famous American scientist. When we examine magnetic circuits, the inductance is equal to weber/ampere. This inductance depends on a range of factors, including:
The size of the cores
The permeability level of the cores
The empty spaces between the turns
The shape of the coil
The number of turns and layers in the wire
Inductors change their polarity when they discharge. Owing to this, polarity during discharging and polarity during charging can be made opposite.

How does Inductor work?
Inductors are used to store electrical energy as magnetic energy. They are manufactured by wounding the wire on the cores. The cores used in the inductors are made with ceramic materials, such as iron cores and air cores.
The coil that carries the electric current induces the magnetic field across the conductor. The magnetic field becomes more intense if the core is kept between the coils. Then, the coil offers a low reluctance path to the magnetic flux. The magnetic field releases electromotive force in the coil that leads to current flow.
As per Lenz's law, the induced current opposes the changes in the magnetic field. The current that reduces owing to the inductance is known as inductive reactance. However, the inductive reactance increases with an increase in the amount of turn of coils.
If there are more turns in which the conductor is wound around the core, the magnetic field generated will be stronger. This strong magnetic field can also be generated by changing the core material in the inductor or by increasing its cross-sectional area.
Different Types of inductor and their applications
Inductors are available in several types and each of them plays a crucial role when used in electronic devices. They are used for different purposes like noise suppression, high power applications, radio frequency signals, etc. Here we are giving some major types of inductors along with their applications, advantages, and disadvantages.
1. Air Core Inductor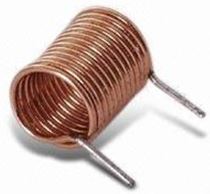 Air core inductors, also known as Ceramic core inductors, are made with ceramic materials. They are used in high-frequency applications where low inductance value is required. As they contain no cores, there are no core losses, such as eddy current and stray losses. However, these inductors need to take more turns as compared to inductors with cores. They use non-magnetic cores which is why their inductance decreases.
Applications
Advantages
Low core losses at high operating frequencies
Disadvantages
Mechanical vibration can affect their inductance
2. Iron Core Inductor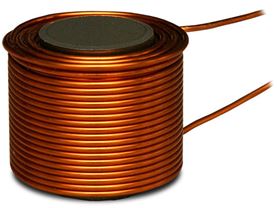 Iron core inductors are those that are produced using ferromagnetic material, like iron cores. The magnetic cores of these materials are used to increase the inductance of the coil. They have high magnetic permeability, so they increase the magnetic field of the coil. These inductors are the best choice for areas where low space inductors are required. They carry high power and high inductance value, but a limited frequency capacity. These inductors have a few applications only.
Applications
Advantages
Ideal for low space areas
Have high power and high inductance
Disadvantages
Limited applications
Limited high-frequency capacity
Core losses, including eddy current loss & hysteresis loss
3. Ferrite Core Inductor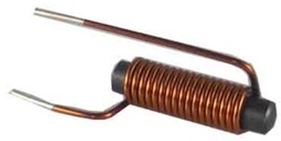 Ferrite core inductors are produced using ferrite materials as cores. The ferrite cores have high magnetic permeability and are made from a combination of manganese, zinc, nickel, barium, etc. Ferrites are of two types- Soft Ferrites and Hard Ferrites.
(i) Soft Ferrites
They can change their magnetization with ease and they are an excellent conductor of the magnetic field. They reverse their polarity with no external energy. Hence, they are used in inductors and transformers i.e. Toroidal cores, E cores.
(ii) Hard Ferrites
These materials are used in permanent magnets because they don't demagnetize properly. They don't change their polarity even after the removal of the magnetic field. They carry high hysteresis losses, hence they are not used in inductors.
Applications
Medium & High-frequencies
PI Filters
Switching Circuits
Ferrite Rod Antenna
Telecommunications
Advantages
Low electrical conductivity
Low eddy current losses
Disadvantages
4. Iron Powder Inductor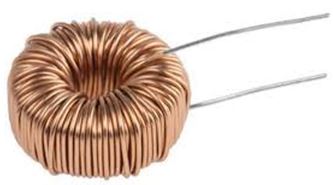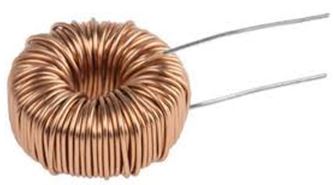 Iron powder inductors contain iron oxide. They are produced using pure iron powder. They are very solid when they are compressed under high pressure and mixed with a binder. They have air gaps so high magnetic flux can be stored.
Owing to this, a higher DC current level passes through the inductor. Therefore, the permeability of the cores used in these inductors is quite less, which is below 100. Hence, these inductors enjoy high-temperature stability.
Applications
Advantages
Have air gaps to store high magnetic flux
Disadvantages
Permeability of the cores is quite less
5. Laminated Core Inductor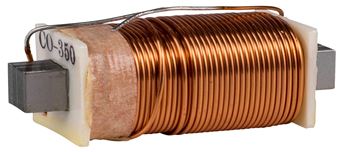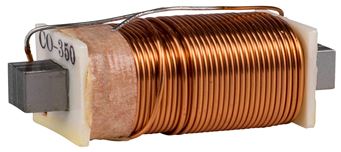 In Laminated core inductors, there are several laminations on the cores. It means the cores are made of thin sheets that are placed on top of each other. These laminations may contain different materials and thicknesses.
The sheets have insulation coating to increase electrical resistance and avoid eddy current losses. This is why the losses decrease in these types of inductors. The design of the inductors is also flexible and has high power levels.
Applications
Power filtering devices
Low-frequency detectors
Advantages
Decreases eddy current losses
Flexible structure
High power levels
Disadvantages
Difficulty in determining different materials & thicknesses
6. Toroidal Core Inductor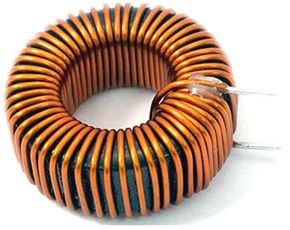 Toroidal Core Inductors contain toroidal cores that are ring-shaped. These cores are produced with ferromagnetic materials, such as powdered iron or tape wound. They have a low magnetic flux leakage which is why there is a high magnetic field. The inductance of these inductors increases as compared to rod core inductors or others. They contain high energy transferring abilities and high inductance values.
Applications
Medical Devices
Switching Regulators
Refrigerators
Air Conditioners
Telecommunications
Musical Instruments
Advantages
Low magnetic flux leakage
High magnetic field
High inductance values
7. Power Inductor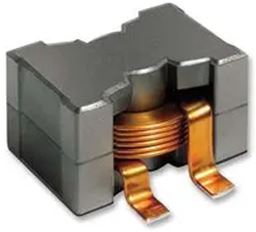 Power Inductors are ultra-compact components that handle high currents while reaching the area of magnetic saturation. They help to reduce core losses in applications that need voltage conversion. They can be used in a magnetic field to receive or store energy, filter noise caused by Electromagnetic Interference (EMI), and reduce the loss of signals. To reduce the EMI, these power inductors are used along with proper self-shielding.
Applications
Power Supply Circuits, like DC-DC Converters
AC Inputs
Advantages
Reduces core losses
Provides low leakage magnetic flux
Filters EMI noise
8. Coupled Inductor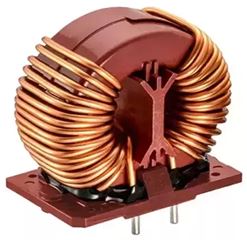 When two conductors are connected through electromagnetic induction, they are known as coupled inductors. They have two windings around a single core. In these types of inductors, the AC current flowing in one inductor creates a voltage in the other one, giving us a mutual inductance concept. They can separate two circuits electronically by releasing impedance through the circuit.
These inductors can be used for a range of applications depending on their winding. The common uses are electrical isolation and increasing the series inductance.
Applications
Energy conversion circuits
Advantages
Minimal active components
Low noise operation
Dual-winding on a core
Disadvantages
Higher output voltage ripple
Limited bandwidth of the control loop
9. Molded Inductor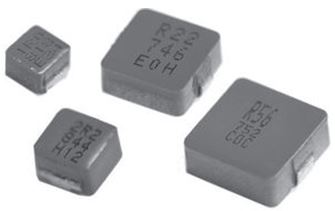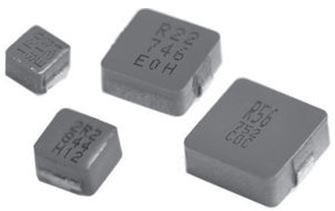 Molded inductors have a coating of insulation, such as molded plastic or ceramics. They have cores that are made of ferrite materials. Their windings are available in several designs and shapes like cylindrical, bar, and axial. The inductors have a small size and are lightweight, so they can be used easily.
Applications
Printed Circuit Boards
Mobile Devices
Computers
Advantages
Disadvantages
Available in limited shapes
10. Variable Inductor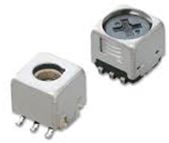 Variable inductors are those that allow the inductance to be varied. They are designed in several ways, such as by using a movable ferrite core inside and outside of the inductor windings. In these inductors, ferrite cores are positioned in a thread-like structure. This increases or decreases the permeability of the cores that affects the inductor.
The inside of the inductors is filled with a metal case that has a magnetic shield. On the other hand, a resin molded design provides protection to the winding with a lot of reliability. They are ideally used for radio frequency applications.
Applications
used in Radio frequency applications
Advantages
11. Bobbin Wound Inductor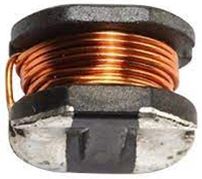 Bobbin wound inductors are wounded on cylindrical bobbin which is why they are named so. They are primarily used for printed circuit boards. They contain two types of leads – axial lead and radial lead. The inductors come in several designs in terms of characteristics like power rating, impedance matching, voltage, and current levels, bandwidth, operating frequency, packaging, and other parameters. They can operate from 60 Hz to MHz range.
Their core material is selected considering the operating frequencies which can be anything from ferrite core material to silicon steel laminations.
Applications
Printed Circuit Boards
Switch Mode Power Supplies
Power Conversion
Filter Circuits
Advantages
Operation in different frequency levels
Multiple applications
Disadvantages
Space limitations
AC losses in high-frequency applications
12. Film Inductor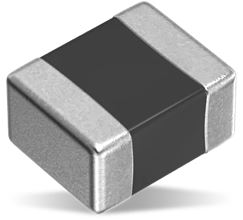 Film inductors use small thin-film coils that are shaped like spirals and have limited maximum value. These films are designed mainly to show how applications like conductors are manufactured from ferrites or magnetic material, and alumina. The material ensures compact and high precision performance.
Major benefits of using film inductors include lower noise, heat resistance, and increase in stability. These inductors in thin sizes are ideal for DC to DC converters that provide power supplies in smartphones and other mobile devices.
Applications
Power Suppliers
Amplifiers
Wireless & LAN Networks
Impedance Matching
Mobile Devices
Advantages
Multilayer structure
Stable inductance
High Q-factor (Quality factor)
High performance compact chips
Properties of Inductors
Inductors derive their properties from magnetic force instead of electronic force. When current passes through a coil, it produces a magnetic field in the space outside the coil. Here the coil reacts like a permanent magnet that attracts iron and other magnetic components.
What are the functions of Inductors?
Here are the major functions of inductors that they perform in electric circuits.
Storing Energy
Inductors are used to store electrical energy based on their inductivity. However, the energy is stored for a small period of time as it goes with the loss of power supply. They are commonly used in computer circuits where the power supply can be changed.
Controlling Signals
Coils used in the inductors help to store energy. They control signals depending on the frequency of the current passing through the coil. Hence, the high-frequency signals pass less easily than low-frequency signals. The inductors also block AC current and pass DC current, so they help to block AC signals.
Conclusion
Inductors are the ideal electronic components that we can use for energy storage in a magnetic field when an electric current passes through it. You can use a combination of inductors, capacitors, and resistors as they are the major passive linear elements that are used in producing electronic circuits. You can explore their types to use for a range of purposes, like blocking AC and allowing DC to pass, separating signals of different frequencies, and to make circuits for radio and TV receivers.
At Cosmo Ferrites, you can find ferrite cores that are one of the primary core materials used in inductors. These cores are ideal for different types of inductors and purposes. They provide an increase in the permeability of the medium around the coil to boost the inductance of the inductors. You can connect with their support team to know more about the ferrite cores and learn how they can help to improve the performance of your inductors.