The cut sheet is basically a document that summarizes technical information and describes the characteristics of a product, material, or piece of equipment. A cut sheet is also known as a specification sheet or spec sheet or technical data sheet, or data sheet. A cut sheet is a common way of describing features or specifications of equipment such as transformers, circuit breakers, motors, and other electrical equipment.
A cut sheet is usually created by manufacturers and distributors of products, but it can also be created by retailers who want to give customers a good idea of what their products are like. A cut sheet is similar to an ad but with less emphasis on marketing and more focus on providing information about the item being sold or promoted.
Electrical engineers or owners are typically required to approve all materials or equipment for any commercial electrical project. The cut sheet contains information regarding colors, ratings, sizes, capacities, and any other information that may be required during an installation.
There are some cut sheets that include a picture of the equipment and lists of its parts, as well as information regarding its alternate model number.
In the cut sheet, there is an alternative model number for equipment as well as a list of features to be used for comparison purposes to ensure that you have the correct equipment to complete your project.
Cut Sheet Examples
In essence, a cut sheet is a document that informs the installers of the electrical installation requirements. Therefore, a cut sheet of any electrical equipment includes information regarding the equipment's measurements, ratings, capacities, colors, etc.
For example, a cut sheet or data sheet of a cast coil dry type transformer provides important specifications like transformer type, standard, installation, phase, frequency, rated power, rated high voltage, rated low voltage, vector group, type of cooling, insulation class (HV/LV), average winding temp. rise (HV/LV), etc.
Here is an example of this.
Example 1: Cast coil dry type transformer
The following cut sheet (which is essentially a data sheet) lists the main specifications of a cast coil dry type transformer.
| | |
| --- | --- |
| Transformer type | Cast coil dry transformer |
| Standard | IEC 60076-11 |
| Installation | Indoor |
| Phase | 3 |
| Frequency [Hz] | 50 |
| Rated power [kVA] | 1250 |
| Rated high voltage [V] | 20000 |
| Rated low voltage [V] | 400 |
| Vector group | Dyn5 |
| Type of cooling | AN |
| Insulation class (HV/LV) | F/F |
| Average winding temp. rise (HV/LV) [K] | 100/100 |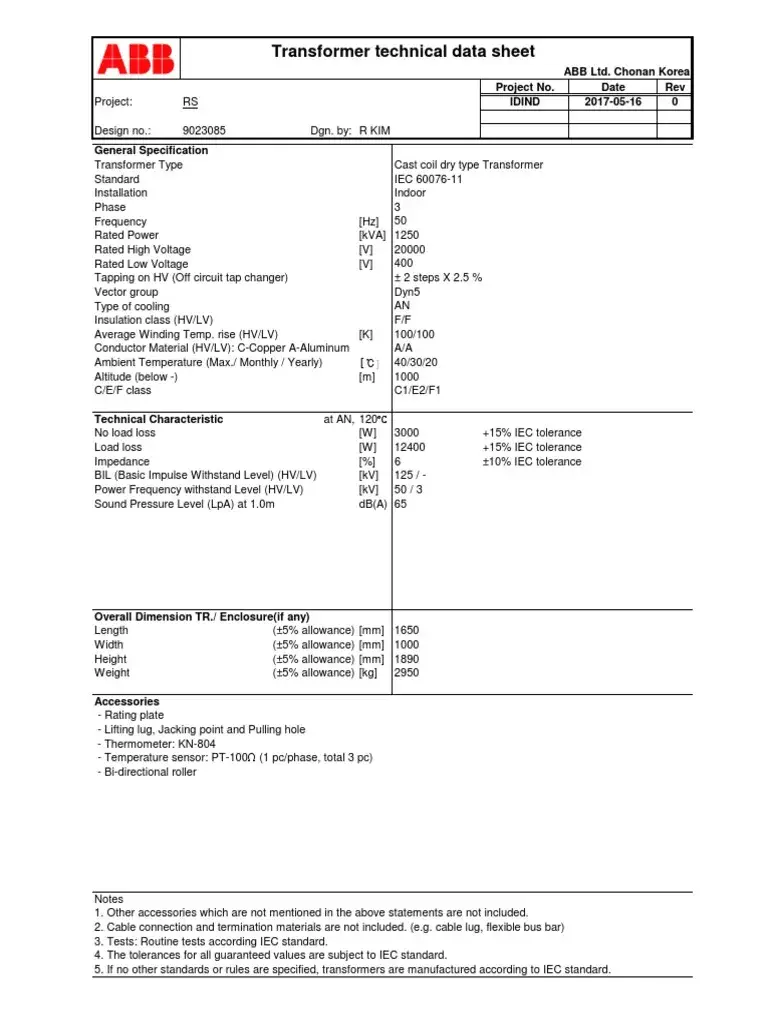 Cut sheet vs Spec sheet
There is no difference between cut sheet and spec sheet. A cut sheet is also known as spec sheet. Both documents describe the specification of any piece of equipment.
What is an Electrical cut sheet?
An electrical cut sheet is a document that shows the technical specifications of a certain product. It is an important part of electrical engineering and the electronics industry. It provides details about the product or equipment and its features, as well as pricing and other important information for potential buyers.
A cut sheet has several sections, including electrical parameters and a schematic diagram. One section contains important information about the product, such as voltage and current ratings, power consumption, etc. Another section shows the circuit diagram of the product in terms of components and their connection points. Another section describes the tolerances and safe operating area for each component in terms of voltage drop and current draw.