Often many of us get confused with the two similar terminologies "Wi-Fi" and "Wi-Fi Direct". Wi-Fi Direct is similar to Wi-Fi technology except that the devices can connect and transfer data directly without the need of having being connected to a wireless Access Point (router or modem).
It is also an IEEE 802.11 standard defining peer-to-peer communication. Any two devices with Wi-Fi Direct can connect to each other by activating it on both the devices, waiting for some time for both the devices to discover each other and then starting the pairing process. Wi-Fi Direct is a hybrid of two well established technologies – Wi-Fi and ad-hoc networking and hence it provides a more feature-rich and secured version of the two technologies. It also provides higher range and higher speed compared to Bluetooth.
Working of Wi-Fi Direct
The working principle of Wi-Fi Direct is similar to that of ad-hoc Wi-Fi mode. The two devices can connect to each other in an easier way than the ad-hoc network of the Wi-Fi. One device can act as the Access Point and the other can connect to it using the WPS (Wi-Fi Protected setup) and WPA/WPA2 (Wi-Fi Protected Access) security protocols. This may seem similar to Bluetooth, but they have some crucial differences – Wi-Fi Direct can handle higher data volume and higher data speed than Bluetooth.
Let us understand its working by an example, Roku 3 – a media streaming device which comes with a remote control. The remote control can connect to the Roku media by Wi-Fi Direct rather than the conventional Infrared or Bluetooth. The remote control does not connect to the wireless router, rather it builds a network of its own and then the remote control can communicate to the Roku device over the small wireless network. The Wi-Fi network name can be discovered with the prefix DIRECT-roku—- as shown in the below figure. It is protected by a security key which only the Roku devices can access it.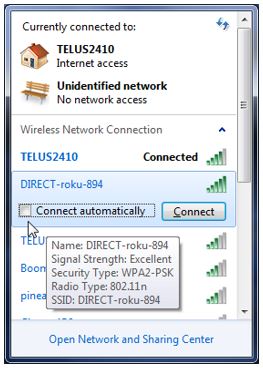 Devices supporting Wi-Fi Direct
Ever since Digital Living Network Alliance (DLNA) has announced the Wi-Fi Direct to be included in its interoperability guidelines, many technical vendors have added this technology into their products. It is supported by all versions of Android since Android 4.0 Ice Cream Sandwich. Samsung has included it in Galaxy S2. HTC One, LG G2 and Sony Xperia Z1 supports Wi-Fi Direct. Air Drop feature of iPhone 5s is yet another feature where this technology is used. Blackberry updated its Operating System to include this technology. Even Xbox support for Wi-Fi Direct allows it to connect it to smartphones or tablets. Many smart televisions with this feature can be connected by your Android phone. Wi-Fi Direct capable devices like smartphones, tablets or computers can make a wireless connection directly to your printer without using any modem or router.
IoT devices which are smart enough to connect to any device in the network, greatly exploit this technology without having the need to be connected to a central hub or a router. All IoT devices in your home like Air Conditioner, refrigerator, bulb, fan can all be controlled by a single click of your Android phone. Any device on the IoT which needs to connect to the Wi-Fi Direct should have a Wi-Fi adapter supporting this feature.
Comparison of Wi-Fi Direct with Wi-Fi and Bluetooth technology
Wi-Fi Direct is a hybrid technology combining the features of Wi-Fi, ad-hoc networking and Bluetooth but with enhanced capabilities. While Bluetooth can manage to transfer data and files from one device to another which support Bluetooth capabilities, Wi-Fi Direct can Achieve the same functionality but with much higher data transfer rates. With the ever-increasing volume of data being generated, Wi-Fi Direct can transfer large volume of data at once unlike Bluetooth. This hybrid technology eliminates the need to be connected to any Access Point or a central hub like a modem or router. Its Discovery tool feature also stands out in not only discovering nearby devices but also identifying and discovering only those devices which will be suitable for the application. For example, if we want to print some image, the network will discover only those devices which can process images.
Author
Anupama kumari
M.Tech (VLSI Design and Embedded system)
BS Abdur Rahman University